Jurassic World: Dominion Dominates Fandom Wikis - The Loop
Play Sound
You Don't Know Jack: The NetShow was a game in the You Don't Know Jack series that was released in December 1996. The game is impossible to get and even run nowadays, as the game is NOT available in either physical or digital form, nor has it been supported since 2000. It was hosted by Cookie Masterson

NOTE: As this game is no longer available, it will be referenced in past tense.
Description
The NetShow was originally free to play on the gaming portal website "beZerk.com". Once the game installer was downloaded and executed on your computer, you could play solo or with up to two others on the same keyboard. The game was sponsored by short television-like full-screen commercials in between rounds, as a means to obtain revenue. New episodes were created weekly and released every Monday, and questions loaded in the background while you were playing. Past episodes could also be played again.
Gameplay
The NetShow was set up like a TV game show, complete with the sarcastic announcer Cookie Masterson. When played for the first time, you would be first asked to tell the game your age - presumably to set the tone of the dialogue as there were many announcer comments that were inappropriate for young players. Following that, it was standard play as usual. Below is a description of the base game.
Players take turns picking categories and then answering questions. Each question is worth a different amount of money: $1000, $2000 or $3000. Players buzz in and then select the answer that they believe is correct (in single-player games, you only need to select an answer). Answering a question correctly will reward you with money amount on offer while getting the question wrong will cost you that amount. Additionally, there is the Gibberish Question category which starts out at $5000, but over time becomes worth less money. Players are shown a nonsense phrase that rhymes with something well known. Players that buzz in and type in the answer that rhymes with the phrase. During Round 2 - i.e. the second half of the game - all values are doubled.
An additional feature is the ability to "Screw Your Neighbor." In games with more than one-player, all players are given a 'Screw' at the start of the game which are replenished at the start of Round 2. If a player buzzes in and presses the 'S' key, they can select a player to "screw," thus forcing them to answer the question even if they don't know the answer. However, if the "screwed" player answers the question correctly, then the player that issued the screw ends up losing money instead.
At the end of the game, the final question - known as the Jack Attack - gives players a prompt to which they must match with answers that appear on screen that relate to a clue they were shown at the start of the question. The fastest player to buzz in on the correct answer gets $2000 while those that buzz in on the wrong answer will lose $2000. After this is done a few times, the final scores are shown and the winner is the player with the highest score.
Commercial break
Just like any other game show worth, You Don't Know Jack: The NetShow earned its money through advertisers. These advertisements were downloaded before play during the intro. Once downloaded, each commercial would played during "breaks" between rounds. They were short, fairly unobtrusive and were the price of playing a "free" game.
Internet connection
The NetShow required an Internet connection to play, as questions (and commercials) were downloaded from beZerk.com - the game's site/distributor. Game mechanics were handled by downloadable free software that you must preinstall on your hard drive. This made for swift game play not hampered by slow Internet connections.
Prizes
The NetShow offered its players the opportunity to win prizes through earning high scores. High scores were kept track of on the old Jack Web site and there were daily and monthly prizes that could be won. Daily prizes were awarded randomly, and monthly prizes were awarded to randomly chosen scorers with a minimum average score. There was also a special giveaway event that gave players the opportunity to win free versions of You Don't Know Jack Movies - which at the time was the newest game in the series. Once again, winners were chosen randomly from eligible players.
The NetShow also offered students whose email addresses ended with ".edu" an opportunity to win $100 on College Days (Tuesdays). In addition, there were $1,000 Wednesdays where you could win $1,000.
Critic Reviews
"By combining top-notch studio sound effects with a tongue-in-cheek host, YOU DON'T KNOW JACK the netshow is fast-paced, frequently insulting, and always funny."
- PC Gamer = 2/98
"This is simply one of the best places to play online and it hosts one of my favorite games YOU DON"T KNOW JACK the netshow."
- Marc Saltzman, Discovery Channel Online Guide = 4/98
"You Don't Know Jack: The Net Show is great fun and quite challenging. For the fan of trivia games, game show fanatics, or just about anybody else it is simply the opportunity of a lifetime to do nothing constructive on your computer.
- Mac Observer (Apr 23, 1997)
"If nothing else, YDKJTN serves a valuable purpose in its ability to not only attempt to hold over Jack-heads anxiously awaiting the next installment of the CD-ROM series, but also to show those who have yet to experience the wonder of the game what it's all about. And we all know what that is. Fun. Lots of fun."
- All Game Guide (1998)
You Don't Know Jack Sports: The NetShow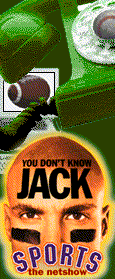 You Don't Know Jack Sports: The NetShow was a sports version of the comedic pop-culture quiz show that was free for play on the gaming portal "beZerk.com", released in February 1997.
History and Advertisers
Sierra subsidiary Berkeley Systems Inc., and SportsLine USA, publisher of CBS SportsLine, planned a co-marketing initiative to bring Berkeley's You Don't Know Jack Sports: The NetShow to the CBS SportsLine Arcade area, a collection of interactive sports games.
"The online sports community is one of the largest, most active groups on the Internet and CBS SportsLine is definitely at the center of that," stated Chris Deyo, general manager for Berkeley Systems. "What better place to offer irreverent sports trivia than to the largest collection of sports fans anywhere on the Internet?"
Coinciding with March madness, Sports: The NetShow featured a special episode devoted entirely to NCAA basketball trivia. It was scheduled to air through March 30th on Berkeley Systems' free online entertainment network, BeZerk, and CBS SportsLine. Just like the base the NetShow, Sports utilized television-like interstitial ads combining audio and animation in full-screen presentations. Advertisers included TBS Superstation, JAMTV/Rolling Stone, Visa, Polygram/Grammercy, SonicNet and Epson.
Trivia
For the Macintosh version, the game was called You Don't Know Jack: The Net Show, but for Windows: You Don't Know Jack: The NetShow