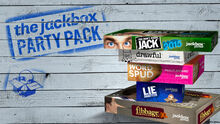 The Jackbox Party Pack is a game created by Jackbox Games, and was the first installment of The Jackbox Party Pack series of party games. It was released on November 26, 2014 for Xbox One, Xbox 360, PS4, PS3, and Steam.
GAME TITLE
Players
Streamable

You Don't Know Jack 2015
1-4
No
The smart-ass trivia show that started it all! Hundreds of all-new twisted trivia questions and everyone's favorite host, Cookie Masterson!

Drawful
3-8
Yes
The drawing game that takes all other drawing games and draws little mustaches on them. Can't draw? No problem! It's funnier that way!

Word Spud
2-8
No
Keep the words rolling all night! Just finish the word coming toward you, like "Mail___." Mail enhancement, you say? You nailed it.

Lie Swatter
1-100
Yes
Do lobsters pee out of their heads? Did Japan vote the instant noodle the top invention of the 20th century? Or are you calling BS?

Fibbage XL
2-8
Yes
Fool your friends with your lies, avoid theirs, and find the (usually outrageous) truth. "The mayor of Rabbit Hash, Kentucky is a ____." Go!
Trivia
This is currently the only Party Pack to have multiple games that are inherently family-unfriendly.